In my move to the United States some years ago, I expected a number of changes – the health care system, removing all the "u's" from honour, harbour, and so on, broadening my O's to omit the "oot," and it goes on. Many years later, I can get by most days with nary a glance when I asked how to get out of a place ("owt" not "oot), I spell everything perfectly, and I continue to be plagued and frustrated by the American health system.
However, the one thing I cannot find and rue to this very day is a good Canadian breakfast, one filled with a plate of real Canadian peameal bacon. I have ordered Eggs Benedict in a hundred different restaurants, ever optimistic that THIS TIME there will be a real piece of back bacon stippled with peameal poking out of the egg sauce on my English muffin. Time and time again I am dismayed. It's ham 90% of the time, and the rest is a conglomeration of something "resembling" or "Canadian-like."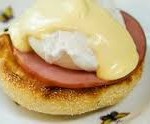 (Left: NOT Canadian bacon- this is HAM)
I have googled "where to find real Canadian bacon" in New York, have travelled to other states, and the only place that even comes close is a small place in Boston.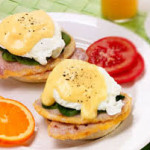 (Left: REAL Canadian bacon – see the peameal around the edges?)
Now I ask you: in a city that promises to have anything you can want, whose Canadian expat population is in the hundreds of thousands, is there not a great breakfast place that serves REAL CANADIAN BACON. With peameal. Fried fresh. Glistening on a lovely, sauce laden English muffin.
That's all I ask. Well, that and a good bag of Smarties.