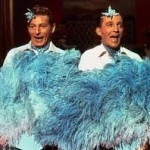 I envy my friends whose sisters are their best friends. They call them to chat, go on vacation with them, have them over for dinner every week. I see that and I wonder what happened with mine.
We grew up sleeping in not only the same bedroom but the same bed. We told stories late into the night, making up grand fairy tales where we took turns playing the pirate or the princess. We shared our clothes, although not always willingly, and we did a lot of things together.
And then we grew up. Our interests became astonishingly different, our taste in men eons apart (except for the one time in high school, but let's not go there). Our expertise at school veered off in other directions – hers to science and math, mine to writing and theater. We hung in there through our marriages, appearing as maids of honor and feeling the kinship that came with that.
But with age came distance, and strong opinions, and decisions that impacted on profound belief systems we both held. With angry words came more and more distance, and now we might as well be strangers passing on the street.
I'm not inclined to place adult decisions on parents or circumstances. As I've said many times, we make decisions and we live with the consequences. Even if we hate those consequences, there were OUR decisions and made with the best information we had at the time.
I'm also not a fan of apologies in every circumstance. Sometimes the decisions we make hurt people, and sometimes you still have to make that decision. To say you're sorry is to negate the reason for the decision in the first place. Everyone who decides to divorce someone has to face that particular music.
Sometimes we feel compelled to say what is deep in our heart, and sometimes the fallout from that can be devastating for everyone involved. An apology, even a heartfelt one, won't wash away the hurt. However, time will. And that's where I'm sitting right now – in the middle of the time between what was past and what's ahead. Maybe it's time to see if we can put the past behind us and really begin to talk again. Not about what happened, not about what was said or heard or felt or imagined, because that simply brings up where we were then and neither of us is that person anymore.
I'm not certain of the next step, or even if there will be one. We may be too different to ever find common ground again. Perhaps it's enough to know that in my own heart, I've left it all behind. Life is too short – and it's getting shorter- to stay in a place that passed us by many many years ago.