Just came back from another aggravating experience at my local Stop and Shop and once again, I spent at least 20 minutes wondering why I didn't leave my full cart of groceries standing there while I walked out in frustration.
We had spent about a half hour tunnelling through the aisles, making sure we hit everything on the list and rushing to finish because we had an appointment in an hour. That still left us time to get through the line, pack the car, drive home and drop them off, and be down the road in time. Until we hit the checkout.
There, absolutely secure in the fact that there would be no-one lining up to take her job, was a young woman slowly scanning each item for the customer ahead of us, while the customer watched each item go down the conveyor belt. At no time did the cashier take her eyes off the groceries coming towards her, a deliberate attempt to not notice that the groceries were piling up at the end. Instead of stopping for a moment to pack up some of the food, and then continue scanning, she kept clicking through the items while the groceries at the end piled higher and higher on top of each other. There was a clear and concise stare at the customer, a blatant "aren't you going to start packing those up?" question in her eyes.
That's when my new hero came to the fore. You see, every time we go to this particular store (and it's not endemic to just Stop & Shop), we notice that the cashiers are getting less and less inclined to pack groceries. What started as a few lanes for "do it yourself" has become a store-or-industry-wide attempt to save money by "letting you" bag your own. Until this woman took a stand. We watched, joyful expressions on our face, as she simply stood there and waited for her things to be packed. Rather than rush to pay and allow the cashier to go on to the next customer, she inserted her right to full service (because this WASN'T a bag-your-own lane) and waited and watched as the cashier, clearly in a funk, slowly packed up each and every bag. As they were done, she took each one and put it in her cart. She might have put a can or two in herself, but only as a final step.
We silently applauded her desire to make a point. It might not have been the cashier's fault that they were short-handed, but we asked ourselves "When did it become the norm to have to bag your own groceries – in the service lane?" and "What are we paying all this money for, if not to have some of the work done for us?"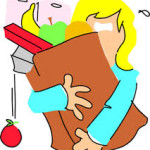 The stores are smart. They give us handheld scanners and let us think it's fun to check ourselves out while we bag our things when go through the aisles. They put in "bag your own" lanes to allow us to feel the exhilaration of scanning our own items. But we're not fooled. We know what happens next. Free-for-all stores, where we find, scan, bag and cart our own groceries to the car. Cashiers won't be needed any more, and neither will stockboys because we'll do it all without them. I say to all of you cashiers who think you're hard done by because you have to put a bunch of food in bags all day, to get busy and make it a pleasure to serve your customers, and a joy to get them out of the store with a smile on your face, because it's your job that will be going. I'll still have a store to shop at.