Why do we celebrate 'good' instead of 'great'? When did we all decide that 'good enough' was enough? Have we become so inured to a lack of excellence that we have begun to settle for anything that gets even close? And why do we let ourselves get pulled into the maelstrom of mediocre rather than assert our desire for more?
At a theatre in NYC yesterday, I felt myself drawn once more into group grovel. The writer was David Hare, a writer of renown and with great successes under his belt. Is Skylight a script that matches the best that's out there? Not necessarily but it was a strong script and well-written. Were the actors amazing? Yes. Cary Mulligan and Bill Nighy are actors of great talent and depth, and took every moment to its nth degree. It's why it won "Best Revival of a Play" at the Tonys later that day, I'm sure.
But – and I say this with an acute understanding that I'm not a theatre critic with years of experience – while I felt that this was a very good afternoon of theatre, it was NOT an afternoon of incredible excellence. Not once was I transported to another place, although I did enjoy every moment of the acting. In fact, the reality that I was watching the acting and noticing the sound and lights made me realize that I wasn't as enthralled with the play as I have been in some other situations.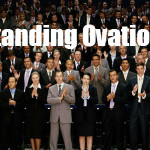 Nevertheless – and this seems to be a rite of passage for just about anything you see these days on Broadway – everyone stood at the end and clapped for some time. The actors returned more than once, we all stood, we all paid homage to a good afternoon. It was NOT, though, a GREAT afternoon. I save that for the original production of "Angels in America," or the recent production of "Tristan et Iseult" by Kneehigh Theatre at St. Anne's Warehouse, or the National Theatre of Scotland's show, "Black Watch." In those instances, I looked up at the end, awash in tears or joy or delight, and realized that I had been visibly shaken by what I had seen. That, in my mind, is what GREAT theatre is. Or GREAT anything. Move me. Change me. Shake me up. Then I'll stand and clap until my hands are sore.